Amazon.com is now shipping Windows Vista with SP1. All 6 editions are available. Before you decide to upgrade to Windows Vista, be sure that your PC supports it.
Read the
system requirements for Windows Vista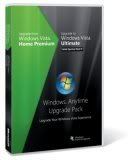 I recently posted on installing
Windows Vista SP1
and I recommend it for anyone looking to purchase a new PC or someone who has recently purchased a new PC but it came with Windows XP. Vista is very stable and my PC has not crashed since its been online (4 months and counting now).
Post your comments if you do upgrade...I would like to start building some feedback on Vista.